Delivering a 44% uplift in conversion rate

Supercharging growth through a partnership focussed on constant improvement
Using intelligent trademark and protection solutions, Corsearch are revolutionising how companies establish and protect their brands. Trusted by thousands of customers worldwide they deliver data, analytics and services that support brands to market their assets and reduce commercial risks.
When Corsearch approached Unfold their site was difficult to edit and update, causing huge frustrations for the team. Structurally, the site was a mess and in need of simplification; their content library in particular was bursting at the seams and needed streamlining in order for it to provide value to their customers.
Challenges
Designing and building a simplified CMS that's super flexible and easy for the team to edit.

Implementing new designs to give a sleek, modern look and fresh interpretation. 

Designing and building a new content library that's easy for users to navigate and filter, in order to effectively drive leads and boost KPI's.

Their old agency were unresponsive, slow and weren't proactively working with the team on improving the site.
Outcomes
A brand new WordPress CMS. Providing the team with a customised toolkit of blocks that gives them total control to update and edit independently.

A contemporary, high quality design that provides an effortless experience for users.

A simplified content library with clever filtering system, for a seamless, user-optimised experience.

A CRO (conversion rate optimisation) partnership which has delivered a 44% uplift in conversion rate in the first 6 months
01
Custom blocks built for flexibility
Corsearch needed a website that didn't limit its potential. They needed a CMS that offered control, flexibility and scalability to support future plans and changes, as well as allowing the team to create and deliver online content easily. 
We designed and built a custom WordPress theme, tailored to the specific requirements that Corsearch had. To do this our WordPress developers created a number of custom blocks that now enables the Corearch team to build pages for specific content, to suit their business needs.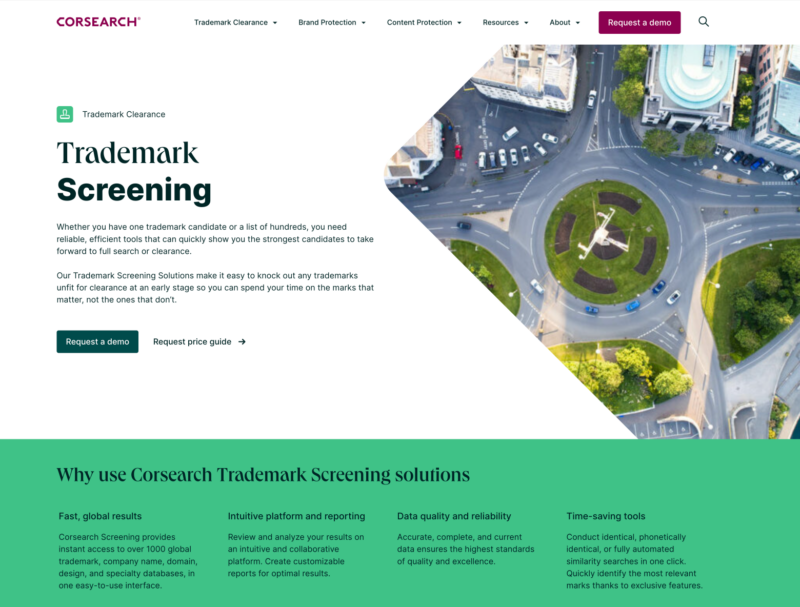 "There are new ideas coming from the Unfold team, things I hadn't necessarily thought of within the original scope of the project. They don't just take everything we say as gospel, if the team thinks things can be improved on they tell us, and that's always really appreciated."

Ollie Borlase

Content Specialist at Corsearch
02
Seamless experience design
Corsearch wanted their website to offer an effortless experience for their customers to improve user engagement and navigation. By taking the existing brand guidelines/style guide and giving them a fresh interpretation we modernised the site to ensure they now stand out from their competitors, whilst also restructuring the site to ensure it's easy and intuitive to browse.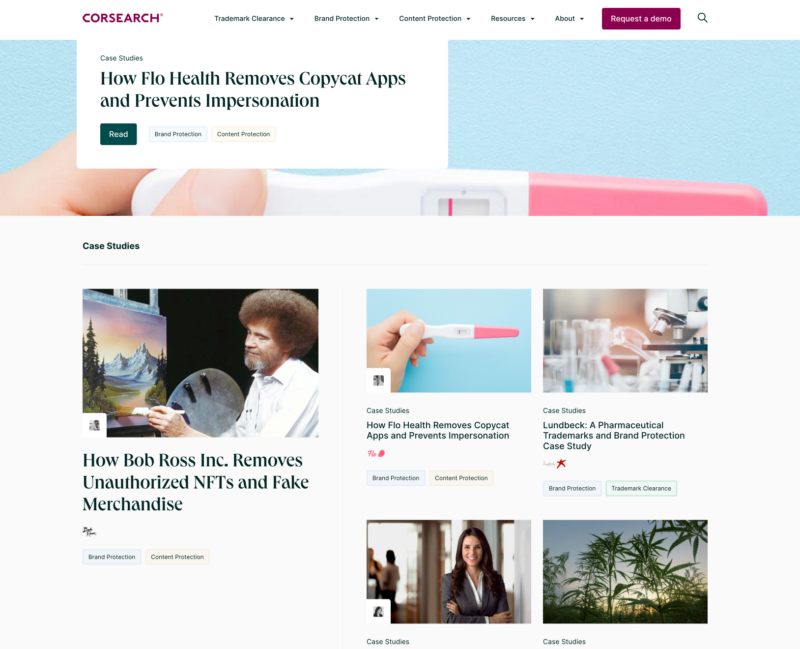 A custom built CMS We designed and built a custom WordPress theme, tailored to the specific requirements that Corsearch had.
03
A clean new content library
Corsearch required a 'home' for their rich archive of resources. When they approached Unfold their existing site did not have the structure necessary to present content in a clear, easy to navigate way. We designed and built a brand new content library with a clean, editorial style homepage, and clever AJAX (on page) filtering system, that's now easy to navigate and offers a modern and connected web experience to its customers.

And our partnership won't be ending anytime soon…
As Corsearch continues to grow, the team plans to partner with Unfold, moving into a process of continuous optimisation and improvement throughout 2023 to increase conversion rate and further improve business KPIs on the site.
During this process Unfold will present analysis and recommendations for changes and improvements to the site. Through regular audits, customer interviews and the use of various tools including HotJar, Google Analytics and A/B testing, we will gain both qualitative and quantitative data to make informed decisions on the site for future growth.
We will use this insight to design and develop new changes on the site, such as refining landing pages, refactoring the navigation and creating new campaign pages.
In the first 6 months alone we've already delivered a 44% uplift in conversion rate.
We'd love to hear from you
If you've got an idea for a new digital venture, email Harry for some honest, expert advice.
Get in touch
We'd love to hear from you
If you've got an idea for a new digital venture, email Harry for some honest, expert advice.
Get in touch