Smoothly automated back end processes, with a stunning front end interface
Sherpr offers an easy and affordable international luggage shipping solution. Once users have booked, their suitcases and boxes are picked up from their doorstep and delivered to their destination, completely hassle free. We worked with Sherpr to overhaul their antiquated booking system and website, to deliver a market-leading digital platform to scale their business.
Challenges
To consolidate a complex, time-intensive system into a sleek, automated operation with a stunning front-end interface.
When Sherpr came to us, they had a few problems;
Their back-office operations were manual and clunky. Many complex elements to the booking process were dealt with by team members individually, leaving no time for important things like growing the business.
Their content management system also left a lot to be desired. There was little to no ability to edit their marketing website without developer support. Their tech was outdated leaving them unable to scale the business.
Outcomes
In just 10 weeks, Unfold delivered a new marketing website, user-facing web-app and admin portal. This has given the Sherpr marketing team greater flexibility to drive the business forward, whilst relieving a lot of headaches for the CX and operational teams.
From the get go, Sherpr has been benefiting from immediate savings in overheads, with fractional levels of administrative support required compared to the previous system.
Sherpr's site launched in Q2 2021, in the first month of trading it's recorded:
Broken revenue records with first 6 figure month, up 52% on the previous period
Average conversion rate up to 3.4% from 2.14%
Moved to an annual run rate of £1.2m
01
A bespoke customer portal …to make transactions smooth sailing
It was clear that whilst Sherpr's business offering was very strong, their current operational processes were holding them back. We knew from the initial discovery phase that many of the manual tasks they were doing could be automated, saving valuable time.
One example of this was the customs forms needed to ship luggage overseas as well as creating the shipping labels for each order. Before they came to us, Sherpr's team were doing these manually. By systemising this through a web application which talks to the Sherpr API, the customs form process is now completely automated and customers can print off their labels through an online portal without any staff input.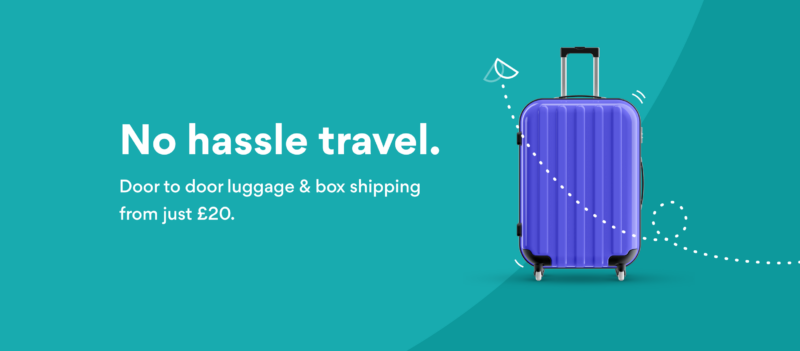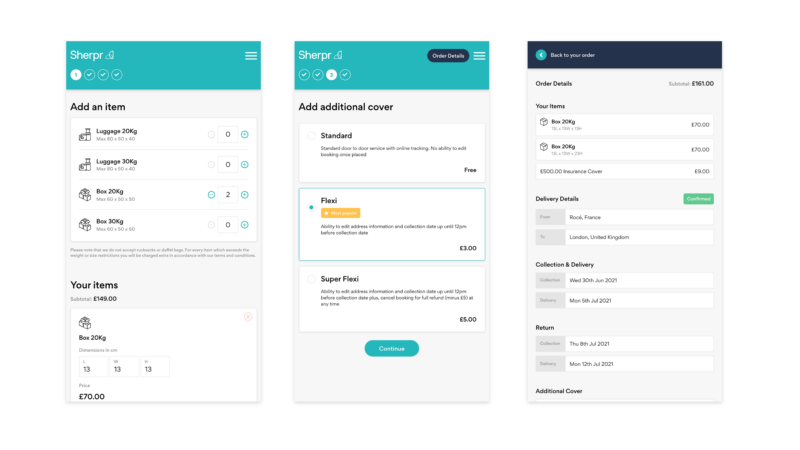 A scaleable business model By automating many of the tasks which were currently done manually, we released valuable resources in terms of people hours.
02
Focusing on the little things to make a difference
We went the extra mile to notice small details which can make all the difference. Making the interface smooth and intuitive was one of the key considerations of this project. These make all the difference when you have ambitious growth targets and every single sale counts.
Some examples of where this thinking was implemented in the app:
We utilised inline validation to give a fast and responsive experience for customers – error messages are shown as data is inputted, rather than waiting until the users submits the form, helping to reduce friction/frustration in the booking funnel. 

When choosing the delivery date for your luggage, the calendar automatically blocks out the public holidays of the destination country, as delivery wouldn't be possible on these days. 

Country dropdown options are also type hinted, so the user can either scroll and select or start typing, whichever they prefer. 

The booking funnel makes it incredibly easy and intuitive for customers to build up their order. The breadcrumb steps on the header, gives you visual validation when going through the form steps giving a visual signal of the past and future steps needed to complete the order, 

There is also a mobile-friendly order breakdown which makes the booking funnel look fantastic on mobile screens.

The form can also be returned to at a later date, with all of the user inputted data saved ready for continuation. 
Responsive design methods like this make the interface feel more intuitive, with less niggles which increases user retention and satisfaction. Small details like these make the user experience much easier, increasing user retention and boosting conversions.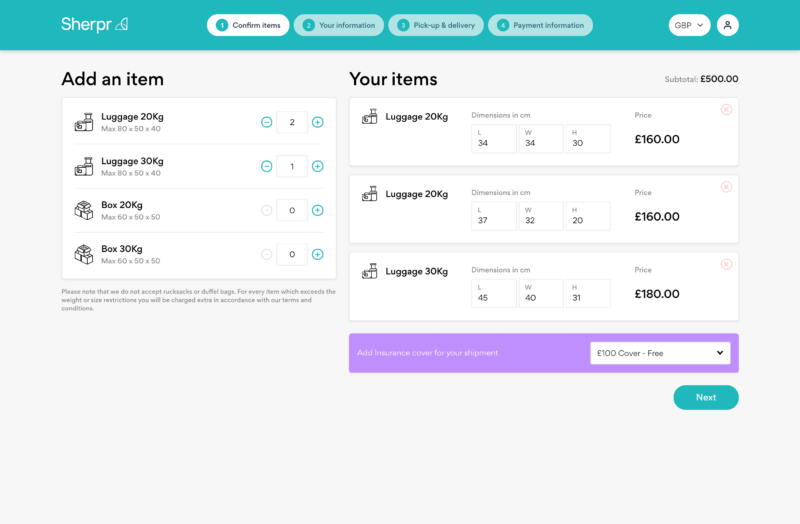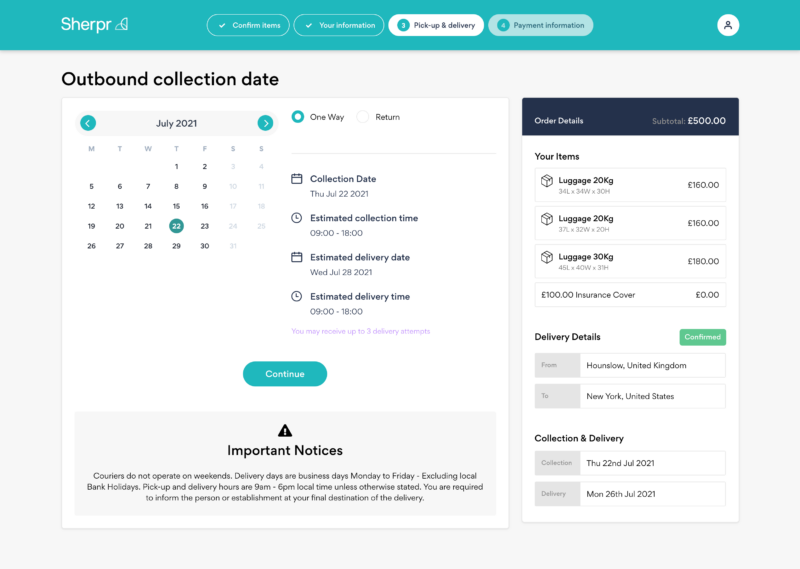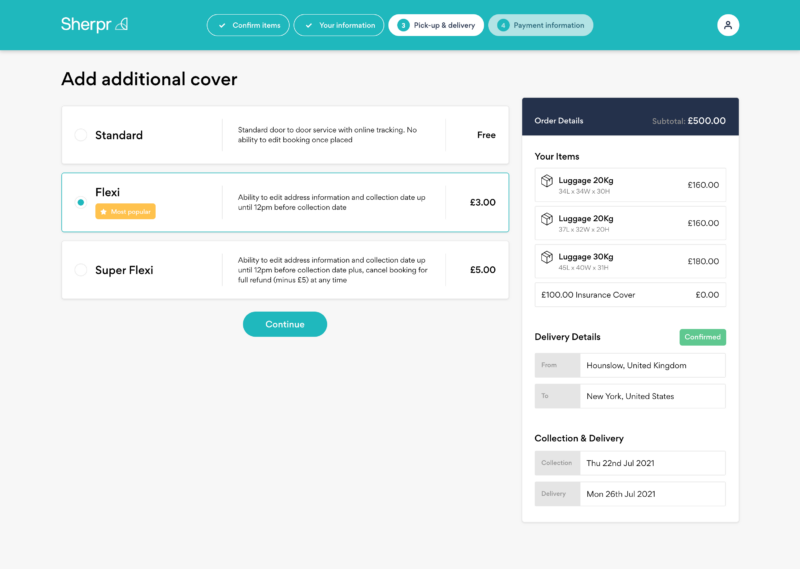 "From beginning to end, the team at Unfold have been great to work with. Communication has been easy and any changes we needed to make during the build process were welcomed and perfectly executed."

Andrew Watson

CEO of Sherpr
03
Harnessing the power of tech …to overhaul business operations
To set up for success we first carried out a full design and discovery assessment of Sherpr's business requirements – examining the business' challenges and opportunities.
We also created a full technical delivery plan, assessing and making recommendations on the technologies which could support their business now and long into the future. The solution we landed on needed to be scalable, automated and easy to use both for both customers and the Sherpr team.
We opted to build their marketing website utilising WordPress, connected to a custom web app built in Laravel. 


04
Making the business model scaleable
A key concern for Sherpr's team was that, as things stood, the business was not scalable. Neither the tech nor their operations processes were conducive to successfully serving a higher capacity of customers. 
By automating many of the tasks which were currently done manually, we released valuable resources in terms of people hours. The tech we have built their website and web app on is a strong foundation designed for increased future capacity. 
Because of the careful growth planning we included in our initial analysis, the next development moves for Sherpr are clearly signposted and planned for. Users can look forward to a customer portal where they can track and manage their orders through Sherpr's own interface as well as other features which will be tested and released in accordance with the changing user requirements. 
Thanks to the marketing website, Sherpr's services and processes are now displayed much more clearly, which will support their growth into the future.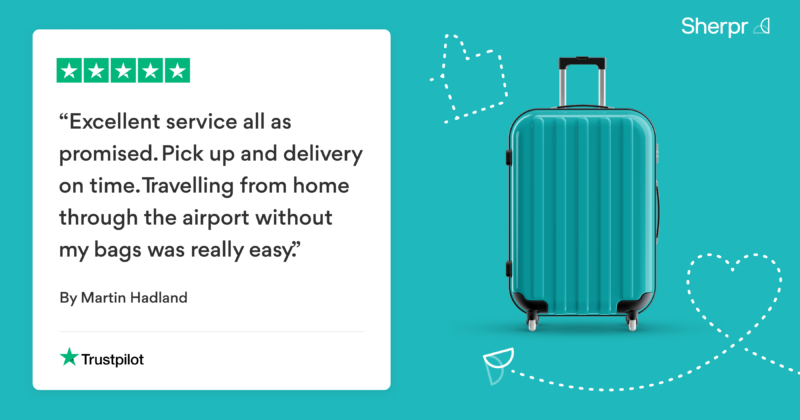 "Sherpr was a classic case study in technology holding back growth. Their existing technology platform was clunky and cumbersome – preventing the team from pushing on with big expansion plans. It's been incredibly satisfying to see Sherpr's potential unleashed with a new suite of digital tools."

Harry Cobbold

Managing Director at Unfold
We'd love to hear from you
If you've got an idea for a new digital venture, email Harry for some honest, expert advice.
Get in touch