Transforming Good Sixty's UX strategy
Aligning digital strategy with business model to improve conversion rate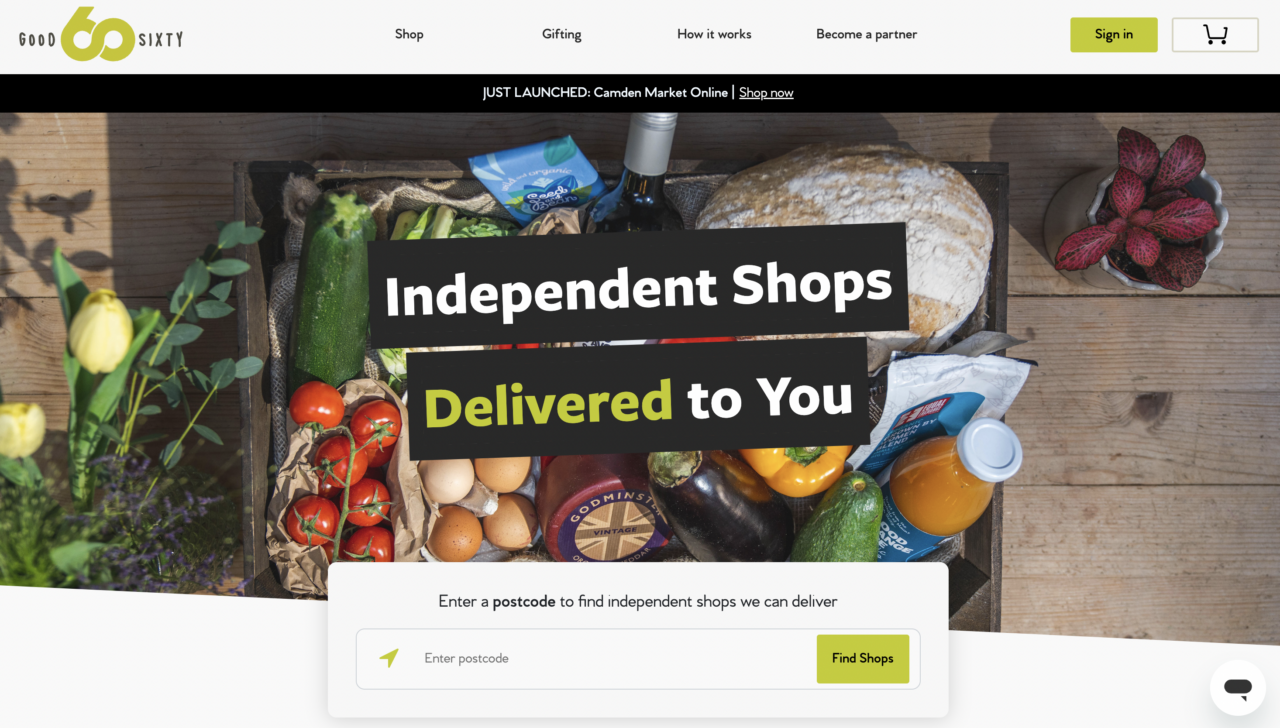 Good Sixty is an online marketplace for the finest groceries and goods from the best independent retailers and artisan producers. For one delivery fee, you can shop from multiple retailers and your order will be delivered straight to your door. Their mission is to help independent retailers thrive online against the supermarket giants.

Based in eight cities around the UK (with many products available for nationwide delivery), Good Sixty is a complex operation to run. As a result, their online offering had become confusing for customers as they tried to explain the various intricacies of their model. That coupled with a long and confusing checkout process, meant the site wasn't converting as well as it could.

Good Sixty needed a UX design agency, who were also specialists in eCommerce to create a new and improved brand and eCommerce experience. They needed someone who could help them tell the story of their independent artisan retailers, all whilst delivering a seamless and simple shopping experience for its customers.
The challenge
Optimise the checkout process and reduce drop offs at checkout. Reduce the number of steps in the checkout and implement best practice across the funnel.

Re-design key pages of the site (including homepage, product landing pages and retail pages) to simplify and give customers an accurate representation of their offering.

Focus on best practice and CRO (conversion rate optimisation).
The outcome
A streamlined digital strategy that now aligns with Good Sixty's business model.

User-tested design improvements that provide a modern, connected web experience for customers.

A simplified checkout process that follows best practice.
Unfold always wore the consumer hat. They helped us not only to design our product, but also to navigate and improve our overall business model. It was an unexpected side-product that came out of the whole process, and a very very valuable one.

Olivia Balaban, Head of Marketing at Good Sixty
Solutions
Research
The first step of this project was an in-depth discovery phase. We got the whole team together to really delve into the Good Sixty business model; Who are good sixty? What do they do? How does their business work? We really went under the skin, discussing their internal logistics and processes to understand the best way to explain and present this to customers.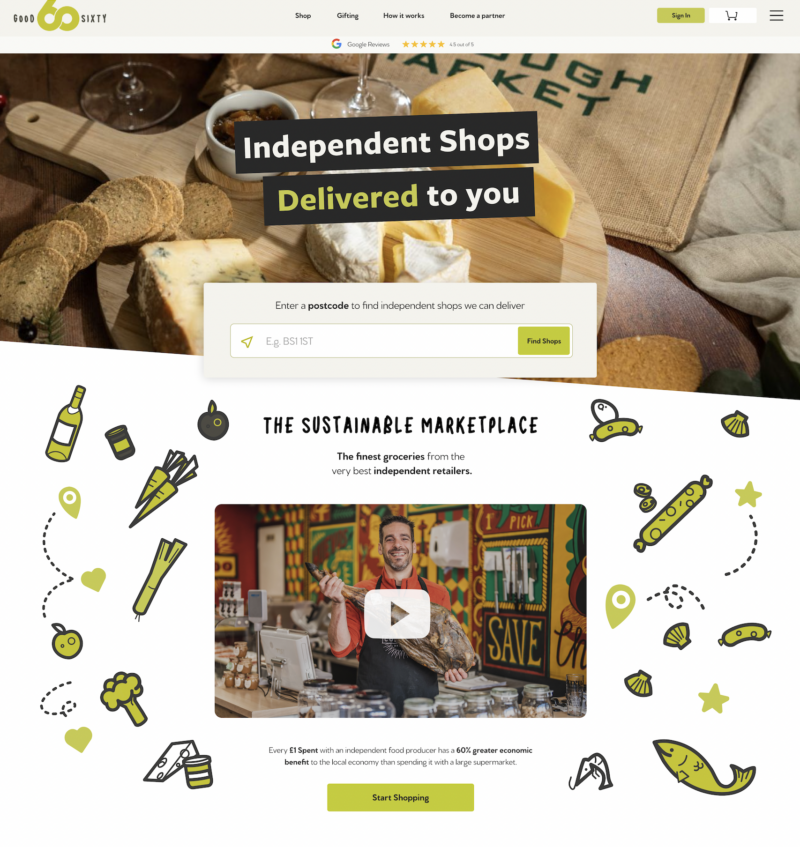 Challenging the client
During the discovery phase we really challenged Good Sixty on their business model. It was clear they were trying to do too many things and needed to streamline their processes. We worked with them to navigate this, making it simpler for both them and their customers. Some of the outcomes have been put into practice and applied to the site already, others they have taken with them and are planning to use in the future.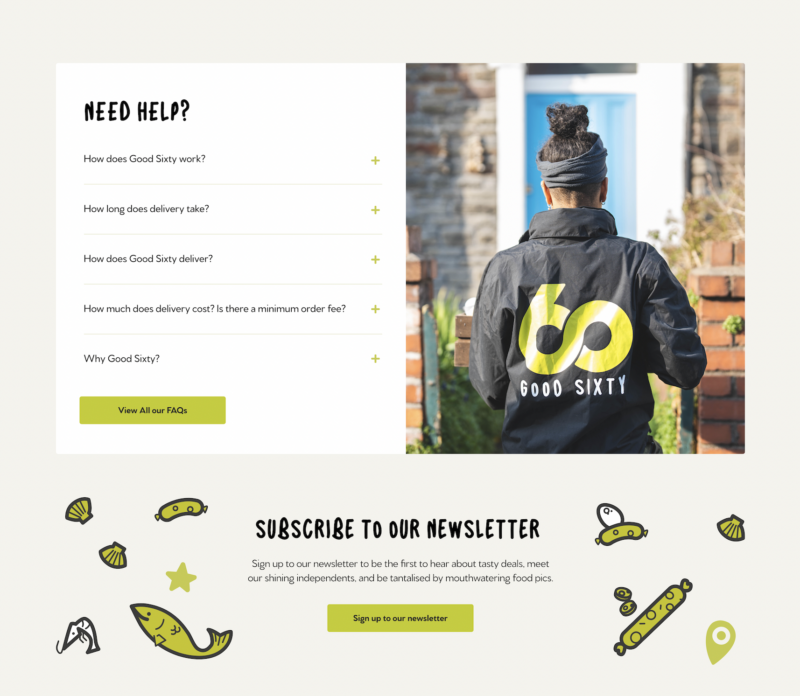 Unfold are not just followers of what the client wants. They weren't influenced too much by us, they were independently thinking and judging, and if there was something they felt strongly against they would say it, which was very brave.

Olivia Balaban, Head of Marketing at Good Sixty
Customer interviews & user-testing
We then carried out customer interviews with different segments of their target market. This provided us with a wealth of insight, from why customers bought into Good Sixty as a brand in the first place, to what they struggled to understand. Following this we got customers to use the existing website (desktop and mobile), to really understand how they used it, where the pain points were and what friction there was when it came to converting.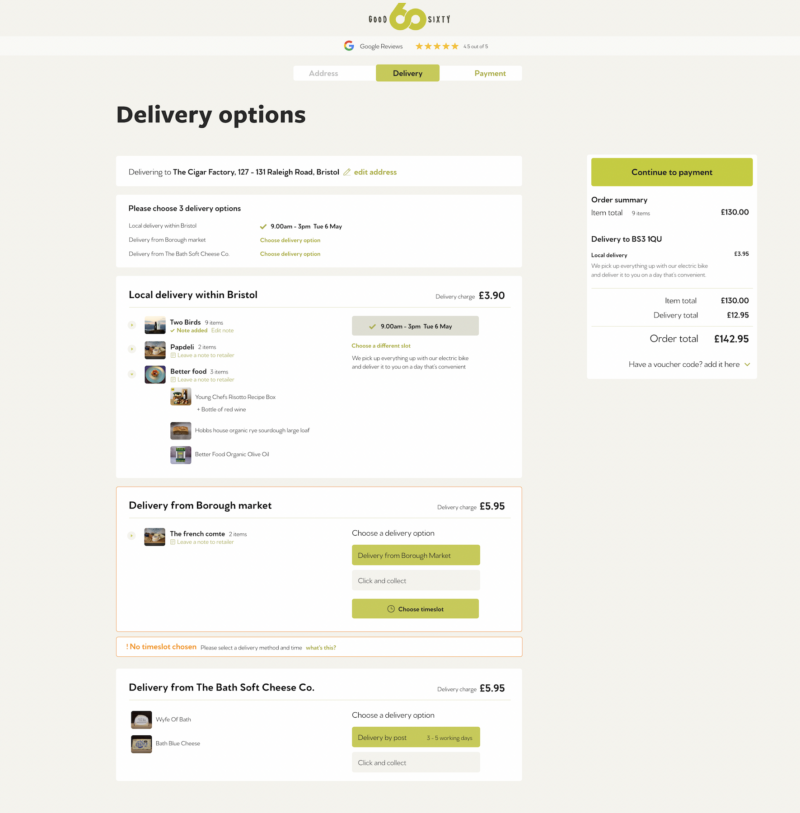 Prototyping & wireframing
Then came an intense prototyping and wireframing period, where we initially designed something that we felt fixed the problems we had found through our research and testing. We went back to another set of users to test this, and it was clear we'd made a huge amount of progress and that we were onto something in terms of improving the streamlined flow. Users were engaging with the product more and they understood how the delivery and logistics worked. We worked on a few iterations, testing at every step to ensure we got it right.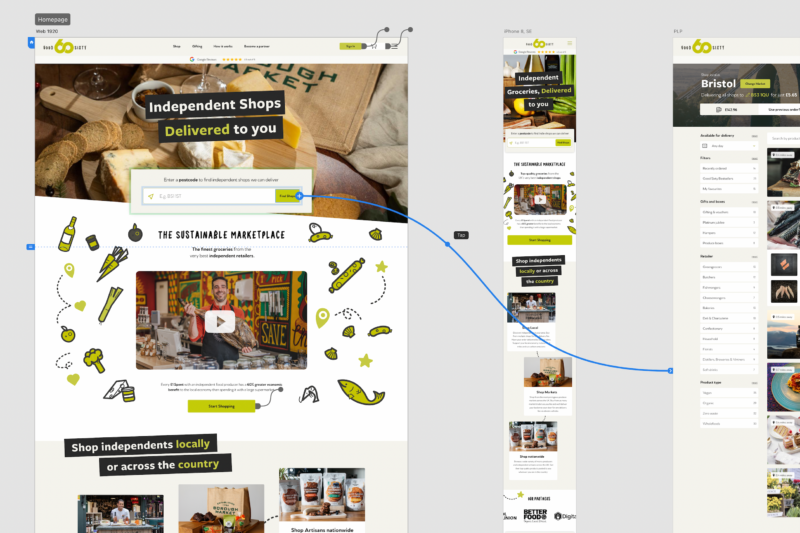 UI & UX design
Finally we took the brand and evolved it, producing beautiful UI designs that looked fantastic and gave the site a new lease of life. 
We also made some transformational UX improvements to key pages such as the homepage, taking inspiration from the fresh produce and personal touch that Good Sixty provides. This makes the site feel lighter, cleaner and fun, to really help show off the Good Sixty brand. 
We made sure we involved Good Sixty's developers throughout as part of the decision making process to ensure we designed something they could feasibly build.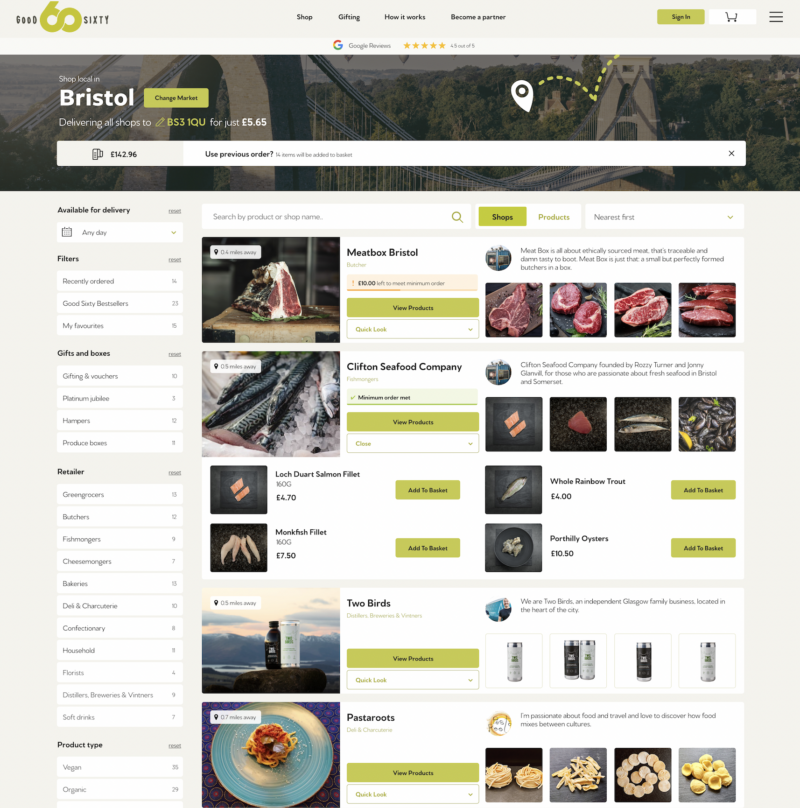 Services & expertise
Let's chat
If you've got an idea for a new digital venture, email Harry for some honest, expert advice.
Get in touch