From idea to 100 customers in just five weeks
Growing a new E-Commerce business in record time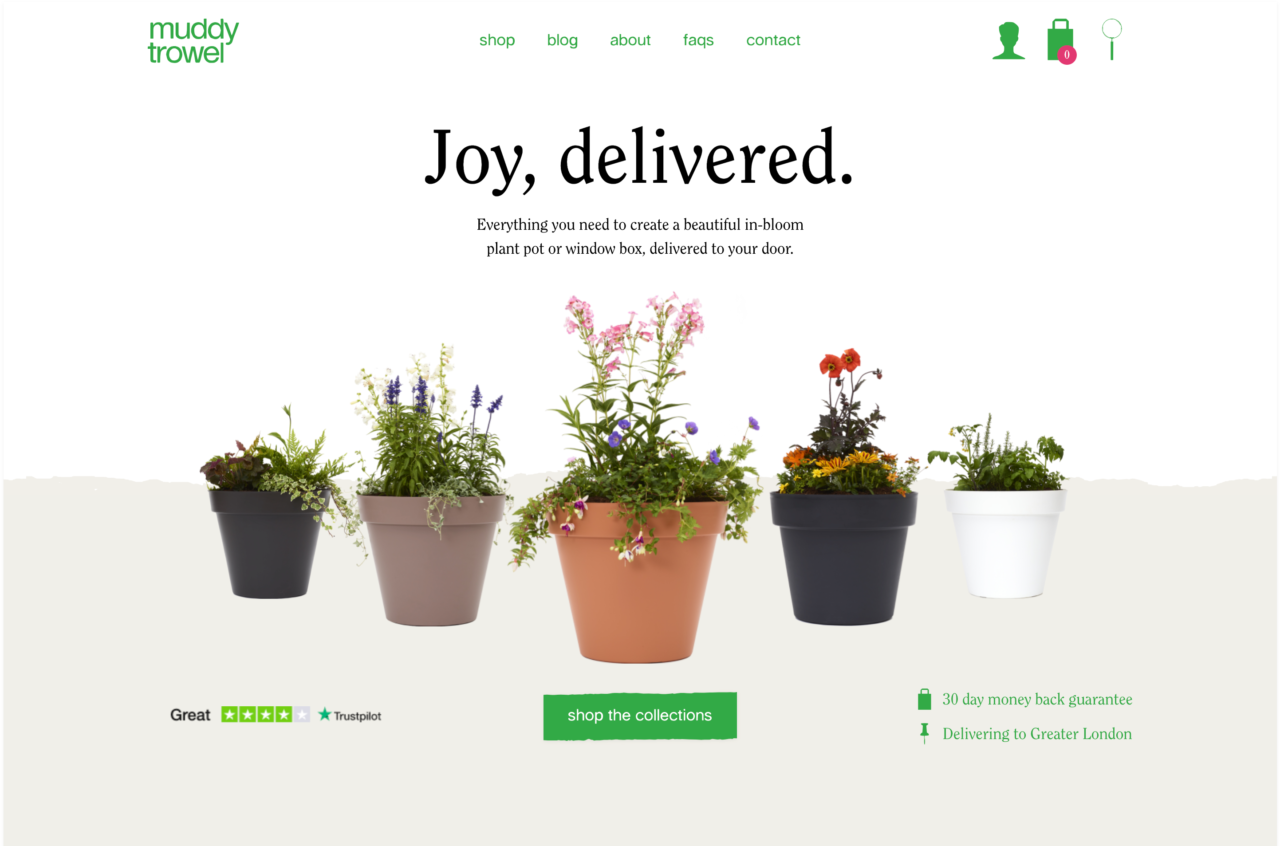 When the world went into lockdown in early March 2020, we joined a small team aiming to rescue stock stuck in garden centers and nurseries all over the UK. Launching the business and website in 2 weeks flat, we saw promising initial success for the gardening delivered proposition. Continuing on as a member of the founding team we led on digital product and e-commerce – launching Muddy Trowel in July 2020 to allow customers to have beautiful container gardening delivered to them directly from the website.
The challenge
When Muddy Trowel first formed, the challenge was all about pace. With stock stuck in garden centres, we had to move incredibly quickly to get a store up and running. In just two weeks we were able to stand up an MVP to start moving stock and begin learning from customers.
Following initial traction and a shift of focus towards the long term the challenge soon became developing the proposition that would thrive in a post-COVID world. We had to find, segment and learn from our customers in order to develop the new proposition and build the tech to support early growth.
The outcome
Following the stand-up MVP we worked in an agile fashion to begin designing and developing the full Muddy Trowel proposition. We created and tested user journeys, wireframes and mockups of the new site.
We then developed the tech using a bespoke WordPress theme utilising WooCommerce to power the store.
0-100 customers 3 weeks from launch
Perfecting the user experience
Simplicity and user journeys
A key requirement in launching any new proposition is learning from customers early and often. Along with the Muddy Trowel team, we were able to learn from individual interviews with prospective customers through to focus groups and large customer surveys. This insight was essential in guiding product strategy and positioning.
In terms of the website, it led to two key insights. Firstly, that customers liked the premium nature of the product and the online store had to be reflective of an experience rather than a transaction.
Secondly, that the tyranny of choice is a real problem in the gardening world. We needed to devise simple ways to organise products and information in an engaging, understandable way that less experienced gardeners could access. Thus allowing everyone to enjoy beautiful flowers that work well together and crucially, are easy to keep alive!


Being able to work in an agile fashion alongside the Muddy team as we launch this new business been fantastic. The flexibility to work in short sprints has allowed us to deliver huge amounts of value and adapt our approach as the business has changed – which of course, in the early days, happens a lot!

Harry Cobbold, Managing Director at Unfold
Technical excellence
Building WordPress & WooCommerce for scale
The second half of the equation for launching the business is providing the technology to power the business online. For this project, we opted to use WordPress and WooCommerce. This technical stack provides great modularity and editability of the website via WordPress' block-based system.
WooCommerce then provides the building blocks for a slick e-commerce platform which we're able to customise specifically for Muddy Trowel's needs.
We then utilised a number of integrations such as HubSpot, Stripe and advanced e-commerce analytics to allow the Muddy team to grow the business and provide customers with an exceptional experience from website to garden.


Let's chat
If you've got an idea for a new digital venture, email Harry for some honest, expert advice.
Get in touch