This month we hosted our second Smart Cookies meet-up of the year, focusing on the transformative power of Tech for Good and its positive impact on people and the planet.
Tech for Good: Building Businesses for Positive Change
We were joined by four fantastic panellists to discover the growing movement of Tech for Good. Hosted by our founder Harry, we explored some of the main challenges organisations in this sector face, how we can measure the impact businesses are having and the key to sharing the Tech for Good story.
---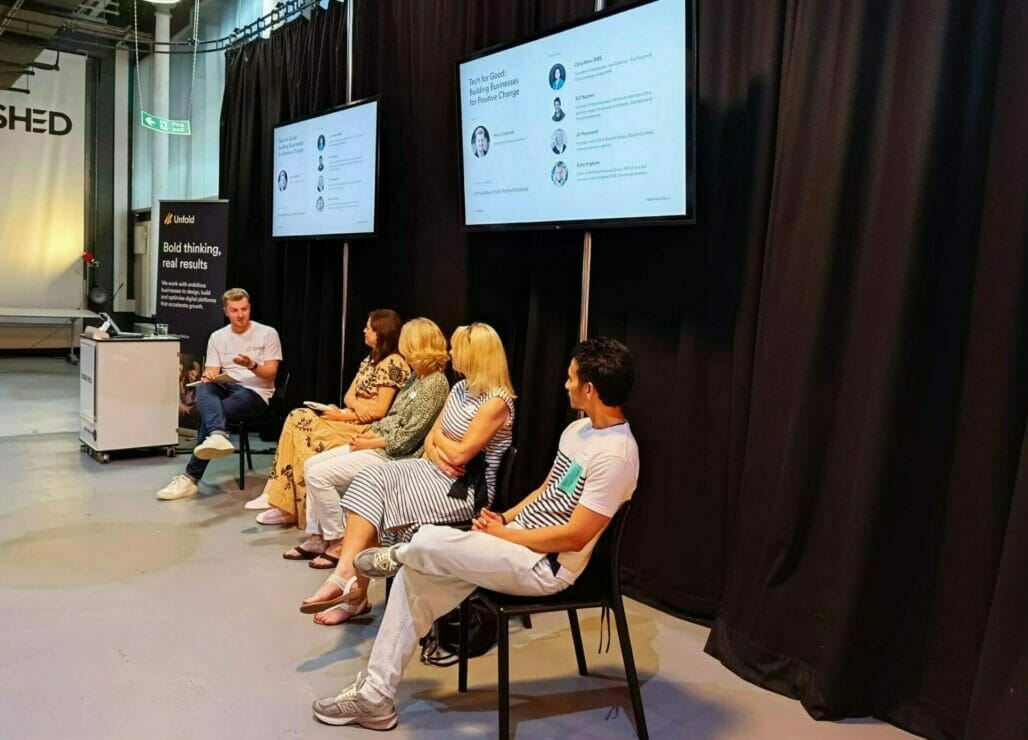 Meet the panel
Our expert panellists were:
Jo Haywood – Founder and CEO of Skylark Media, a video production company helping sustainable and ethical brands communicate their purpose to the world through video. Jo setup Skylark Media in 2005 following a career as a producer of science programmes for BBC and Discovery Channel. Skylark Media is B Corp certified and working with innovative, sustainable and purposeful businesses to help deliver their unique message and build their brand identity.
Zara Nanu MBE – Founder and CEO of Gapsquare; an award-winning organisation offering employers intuitive pay, people analytics and services for tackling gender, ethnicity, disability and wider pay gap and pay inequity issues. Gapsquare's vision is of a world where work is fair, where pay meets value and diverse talent thrives.
Saf Nazeer – Previous co-founder and CEO of award winning Tech for Good startup Helpfulpeeps, whose mission was to build the world's most helpful network, using technology to enable people to connect locally and help each other in the real world. As an Advisor to various startups Saf's focus is on supporting founders who are building products and services that positively impact people and the planet.
Sally Higham – A Tech4Good South West committee member and social strategist, committed to supporting communities, education, youth services, sport, charities, social enterprises, businesses and social housing to grow. Sally is Chair of Rooftop Housing Group, a not for profit organisation providing over 7,000 affordable homes and services to people living in South Worcestershire and North Gloucestershire.
Our panellists provided us with a thought-provoking discussion, sharing their individual views and experiences of working within the Tech for Good space.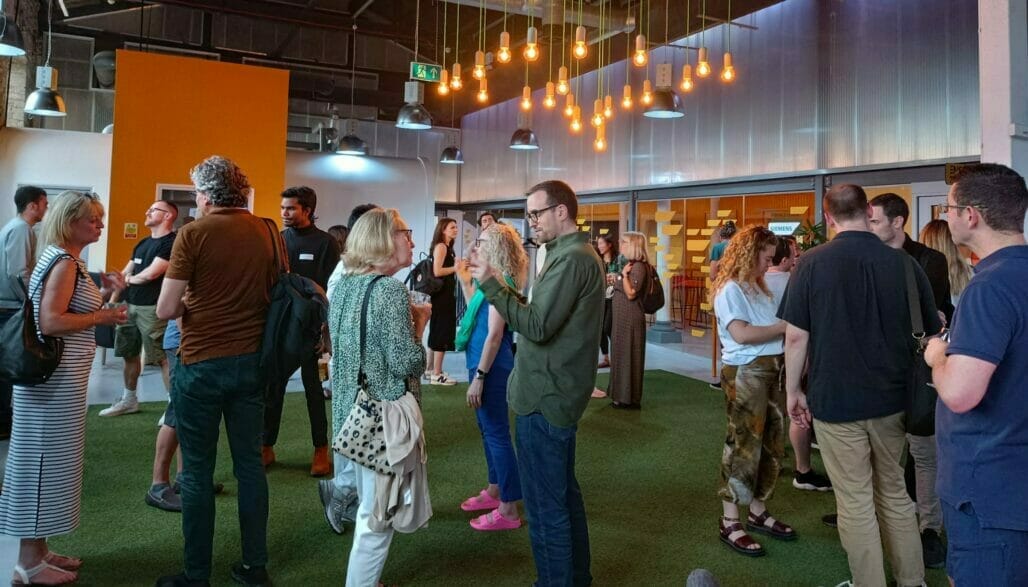 Key takeaways from the evening
"If you can't measure it, you can't change it/control it" How are you able to measure the positive impact of Tech for Good businesses?
Sally from Tech4Good South West explained "So everything was about data for us, it was all about the output, the outcomes, the long term social impact and the difference we were going to make. We measured that through both qualitative data – speaking to our end users, but also gathering the relevant quantitative data. However, there's a myriad of problems that comes with this, for example whether the data is entered right in the first place, whether people are willing to enter data set to the criteria, and how you interpret the data – but you do need to have something, you've got to be able to measure it."
"If you do this through a formal program such as B Corp that can be great and give you a process to work with however many small and start up businesses may not be able to do this, in which case you just need to be a able to produce as much data as possible and get your message out there and ensure your marketing and outward communication almost follows a simple version of the B Corp program for yourself. It's really important to always think about who your data matters to and focus on getting the facts right."
So when you're talking to investors do you just focus on the bottom line or are investors interested in the impact your business is having?
Saf Nazeer explained that this was a big challenge for him. "Often with investors you have to guess and hope you made the right guess! We ended up raising money from a number of different sources but for us we had very clear metrics that really mattered to us internally, but they were metrics with no monetary value associated with them. We would explain to investors that we had 10,000 people who had helped each other in the last set period and they did often buy into that, so when they did invest it was more from a holistic view. I think they were realistic on their return as we didnt have the financial data that was needed to go and pitch, it was more art than science. More emotion than anything else."
A great example given by Jo from Skylark Media was a client of theirs, Buglife, were planting insect superhighways to join up pollinators, and needed a video to showcase the positive work they were doing in order to get additional funding. Following the release of the video they gained half a million dollars of funding for it. "I wouldn't have known this information as it's quite hard to track the results of your work, however having gone through the B Corp process, this prompted me to find out. It turns out that from this funding they're now employing new staff, planting new meadows and providing insects with new environments, all down to the video. It's a great example of how within Tech for Good they were able to measure their impact and get more funding."
Jo also explained how for Skylark, knowing what success looks like has to be discussed right from the very beginning with their clients. Working out which platform, who needs to be identified and what investment opportunities there are has to be discussed as part of the initial brief.
Is there a commercial driver for being more ethical and positive in terms of our impact? And in what ways does becoming B Corp certified benefit your business?
Jo from Skylark Media explained that "when you become a certified B Corp, it places you into a different group of people. It's a very supportive network of companies who are all working within that realm. Because Skylark was already set up to be all about sustainability and purpose, I felt like we didn't necessarily need a stamp for something we were already doing, but then actually working through the process was really enlightening."
Jo went on to explain that there are a number of things you need to look at in order to become B Corp certified, including your workforce and how they are supported, their training opportunities and pay equality all come into play. You also have to look at the community around you – are you supporting the community, are you employing people who are near to you rather than contractors who might be far away but much cheaper, all of this and more before you even begin to look at sustainability.
"I think a lot of people think B Corp is all to do with the environment and cutting down on your carbon footprint, but in fact it's more aligned to ISO. It's a thorough review of everything you do within your organisation, to make sure that it's properly tested and that you have all of the policy and paperwork to show that you are about people and the planet before profit."
As part of the ongoing B Corp accreditation you are also reassessed every three years and can be removed, therefore it's something you have to strive to maintain. As a business you are held accountable to ensure you are constantly reviewing and assessing the most important areas of your organisation.
How can we promote and share Tech for Good businesses? How do we make sure our message is authentic and we're not just pedalling something because we want to be associated with a movement?
Zara explained that "it's very important to be authentic but I'd also like to bring in the role of storytelling. Data is important and we want to capture the impact and the ROI, but there's a big piece here that's often missing, especially when you're doing something for impact and that's changing the world, there's something to be said for great storytelling. You need to capture people's attention through that storytelling as it will stick in their minds more than numbers."
Zara went on to explain how storytelling is something she's focused on over the years, really getting people to join in on the journey, making it authentic and vulnerable really makes people feel like they could be part of it and making sure it's relatable to their everyday lives.
Jo also told the audience that "at Skylark we have to be really careful on greenwashing and do our due diligence before we can engage with new clients. We'll turn companies down if we believe it's greenwashing. We'll create rules of engagement, so whilst you continue to operate in this way we'll continue to work with you but if this changes we can't continue to work with you and that's really important for us as a business."
What do you want to see as a panel at government level or at policy level to make consumers or businesses act in a better way to amplify all this positive change?
Saf had an interesting perspective on this "Maybe they need to change what's being measured at a government/policy level, for example employment is measured but that's not necessarily connected to Tech for Good or social good. Unless there is a mandate or prioritisation to measure more of the social impact businesses are having then the metrics don't add up. If we change what's being measured, then the right policies will come off the back of that."
Zara also explained how she believes it's down to policy makers to make change. "There are some interesting projects happening around the world – the European Union acknowledging that growth and sustainability are incompatible and investing a lot of money into understanding what the post-growth economy looks like and how we build sustainable societies in that post-growth economy. It is down to policy makers and investors to create a better environment for all of us."
A look towards the future: What challenges are we going to face going forward that are best going to be solved by tech?
Zara: "Tech can really help us revisit democracy and policy making and how we do politics in general. It can help transform how we input into what policies we want and we don't want. It can provide a great opportunity"
Jo: "Tech gives us an insight as consumers that we might have not had before, from satellite tracking data to seeing where your pension is actually invested. It gives us more visibility of what's actually going on, giving us a voice in the debate that maybe we didn't have before. If tech can empower that it would be a good thing for the future."
Sally: "I would love to see education completely turned upside down by technology. I believe education needs to move with the times, children are coming out unprepared for the world, education needs to change and adapt to what they need to learn and how they need to learn. Tech could really drive this."
Saf: "If we're talking about really using Tech for good I think Healthcare. The insights we could have, discovering things earlier, being able to measure things and individual optimisation for our health."
---
Other events & resources
An upcoming event that may be of interest to you:
Is tech addressing society's greatest challenges?
Engine Shed, 13th September 6pm
With keynote speaker Josh Glancy from the Sunday Times
A great resource mentioned at the event:
The inclusive innovation playbook is an essential guide to creating more inclusive digital products and services.
Interested in our events?
If you missed this event but would like to come along to future events, sign up to our Smart Cookies meet-up group to keep up-to-date.
You can also sign up to our newsletter and follow us on socials, where we'll advertise all upcoming Smart Cookies events.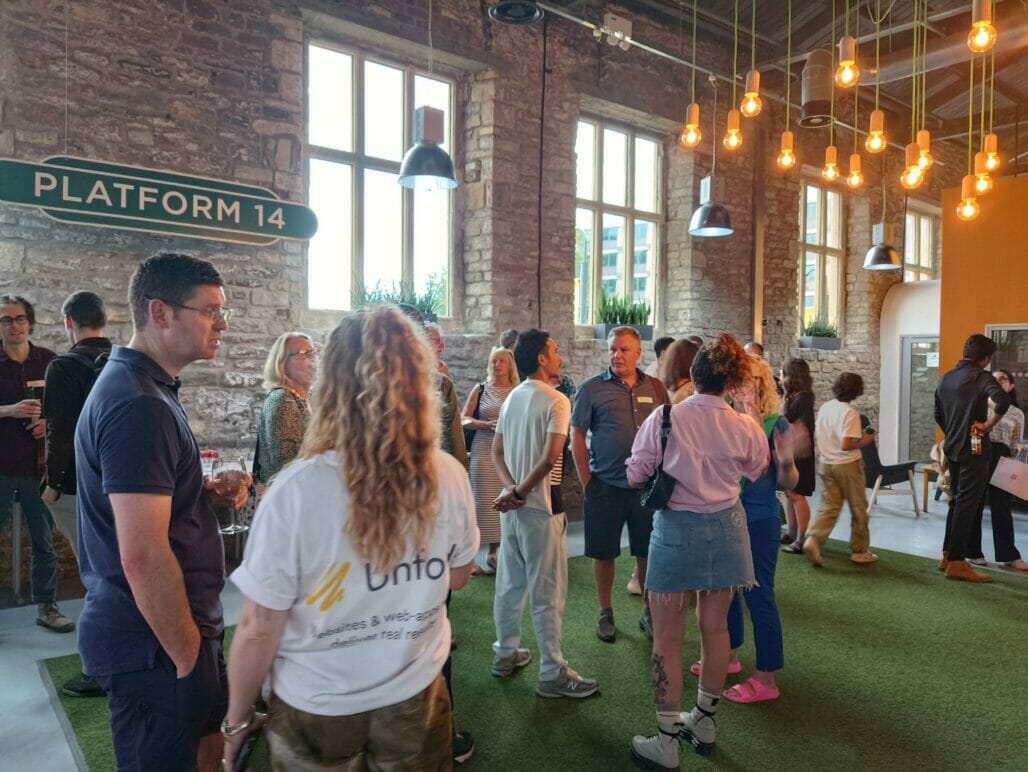 We'd love to hear from you
If you've got an idea for a new digital venture, email Harry for some honest, expert advice.
Get in touch